Extending the reach of justice.
Building an effective judicial process with managed communication solutions.
Connect
Judges and Magistrates to remote detention facilities.
Reduce
Security concerns and personnel requirements of transportation.
Record
Official hearings and proceedings for records keeping.
Leverage
Cost savings for arraignments and high risk court proceedings.
Implement
Secure alternatives to departmental and family visits.
Expand
Access to witnesses and expert testimony.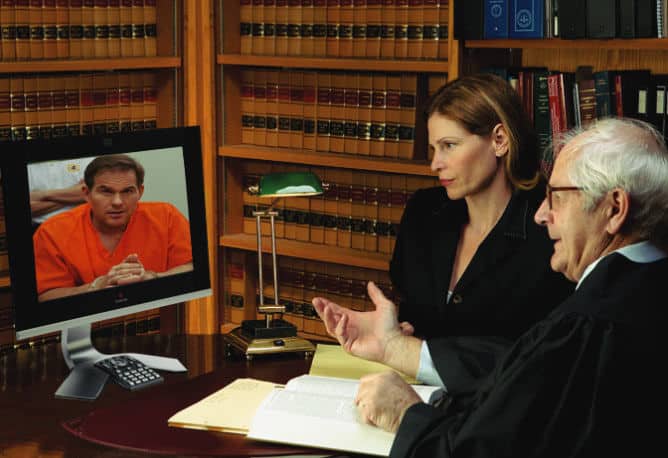 The ability to communicate quickly and effectively is vitally important in a court of law. But transportation and meeting requirements in the judicial process cost time and money and create challenging security and management situations. Overcrowded court systems, jails and holding cells generate dangerous and costly logistical problems. When law enforcement personnel transport prisoners for hearings and visits, this siphons resources away from their duties of serving and protecting citizens. 323.tv™ is a leading provider of justice solutions for courthouses, jails and law firms.
Video conference and data collaboration solutions allow agencies to increase their operational efficiency by processing more cases while alleviating security and logistical problems for courts, law enforcement and corrections by decreasing transportation requirements. Video arraignments, keep court dockets running efficiently and decreases travel times of inmates, lawyers and judges. Video conference visitations are cost-effective and offer a secure alternative to regular departmental and family visits. Hearings and meetings can also be recorded and serve as official court recordings that become part of court documents and records. Use of individuals for expert testimony can be greatly expanded by drawing on a broader base of witnesses.