Polycom RealPresence Trio systems can now be registered as a Zoom Room so you can enjoy all the great features of your Zoom video conferencing service and get professional grade audio and video quality for your Zoom meetings. You can set up any Trio solution, such as the Trio 8800 Collaboration Kit with EagleEye Mini or EagleEye IV USB Camera, and the Trio + Group Large Room Bundle as a Zoom Room system to get HD audio and video coverage for any size meeting environment. At 323.tv, we have a great selection of pre-configured Zoom Room Polycom Trio kits that are designed to fit your needs. Call 1-866-323-5773 to talk to an expert now about Polycom Zoom Room solutions.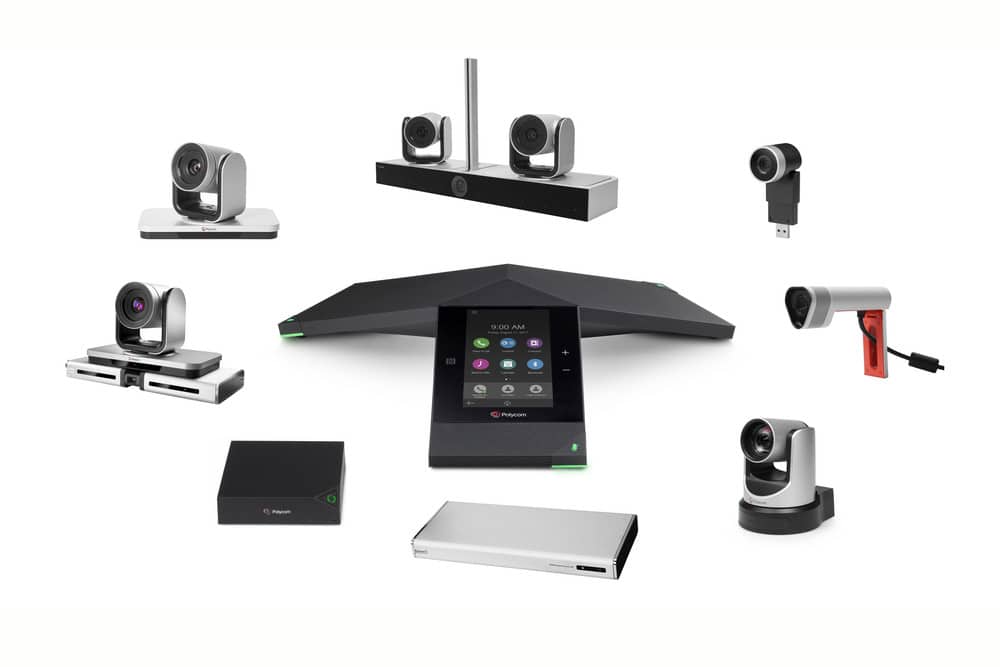 Polycom RealPresence Trio systems provide flexibility for any environment. The Trio can be combined with any of Polycom's high end pan-tilt-zoom cameras with the addition of a RealPresence Group codec, giving you top-of-the-line audio and video performance for your Zoom Room.
Professional Grade Audio and Video
Polycom NoiseBlock Technology – Automatically eliminates unwanted background noise and echoes, ensuring that only the speakers and presentations are heard keeping meetings free from distractions.
Acoustic Fence – A virtual fence surrounding the area of your meeting allowing only the sounds from within to be captured, which is great when you are meeting in an open work space.
Polycom EagleEye Cameras – These cameras are top-of-the-line and designed for video conferencing. Enjoy high definition images, pan-tilt-zoom functions, presets, and automatic tracking when paired with an EagleEye Producer or Director.
Native Zoom Rooms Experience
Meeting Controller – The Polycom Trio running the Zoom Rooms software becomes your meeting and room controller. Start and join meetings at the touch of a button, control the camera, and adjust the settings using the sleek 5-inch touchscreen interface.
Calendar Integration – Schedule Zoom meetings and invite participants from your Microsoft Exchange or Google G-mail account that sync with calendar on the RealPresence Trio.
Connect With Users Anywhere, On Any Device – Invite and add remote Zoom users who can be virtually anywhere and on any device. There are no limitations to who you can add to your Zoom Room meeting.