Polycom Trio 8800 Visual Pro EagleEye IV-12x Bundle
This bundle includes the Polycom RealPresence Trio 8800, RealPresence Group 310 Codec, and EagleEye IV-12x Camera. The Trio + Group video conferencing bundle is the ultimate cloud/SIP conference system for large conference rooms. Register the system with your favorite cloud conferencing services like Skype for Business, Zoom, GoToMeeting, and more. Enjoy the sleek 5-inch touch display of the RealPresence Trio with customizable buttons, and one-touch to start/join meetings. The Group 310 codec allows for high-end audio and video performance in larger meeting spaces that need additional coverage. When configured with the Trio, the 1080p and dual display software options are automatically enabled on the Group 310, giving you high-quality video and a second display, which is great for your near camera view and sharing content.
Having the Group 310 codec in the room also gives you the option to connect high-end Polycom ceiling microphones and use the TV or external speakers for the audio output. With a Polycom Trio + Group 310 bundle, you are able to use Polycom's top-of-the-line video conference cameras like the EagleEye IV-12x, which is full HD 1080p with smooth motion pan-tilt-zoom. Other Polycom accessories can be integrated as well, such as the Polycom Producer or EagleEye directors for automatic camera tracking. All of these things will be controlled from your Trio 8800, which has a sleek touch interface for control of your camera, customizable buttons to start meetings, a directory for all your contacts, and a meeting calendar.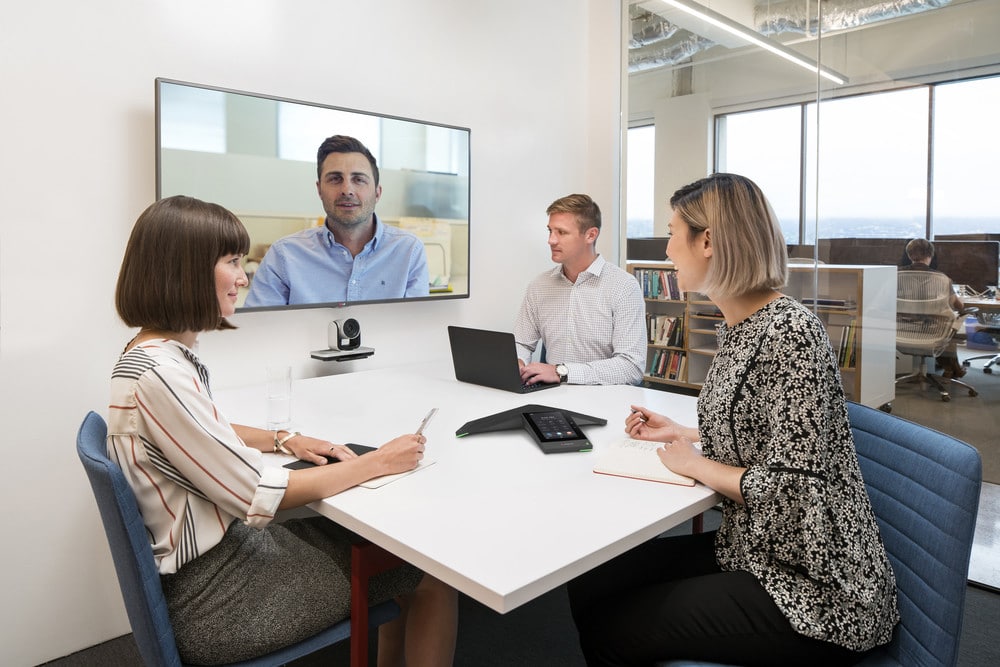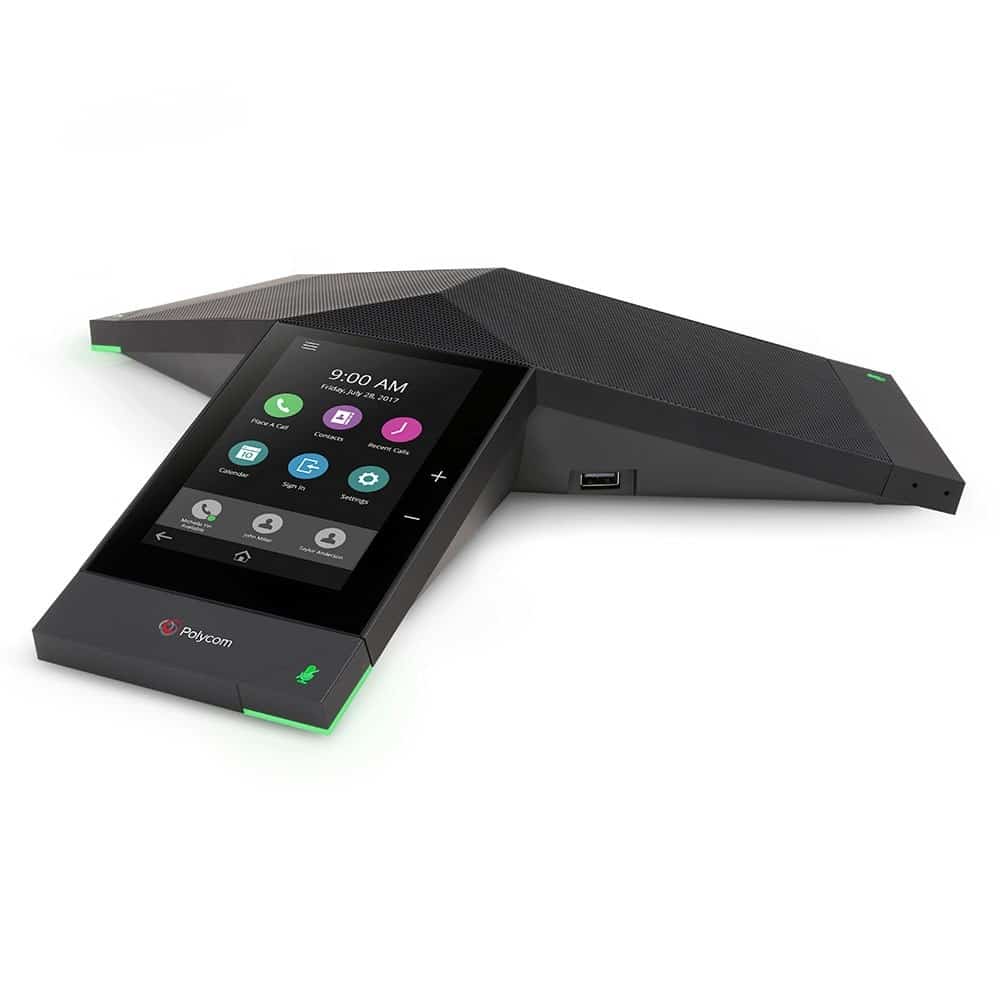 Polycom Trio 8800
Everyone loves the simplicity of Polycom's iconic three-point phones. RealPresence Trio takes this to the next level. The design of Polycom RealPresence Trio is sleek and sophisticated. Its 5-inch color touch screen and intuitive navigation make it simpler than ever—resulting in fewer mistakes, quick starts for every meeting and minimal training requirements. The Polycom RealPresence Trio 8800 provides wired and wireless pairing with your personal devices using Bluetooth or USB and even includes convenient, illuminated mute buttons on each leg so everyone in the room can manage the meeting experience.
Polycom Trio Visual Pro Codec
Polycom Trio VisualPro Codec is designed to pair with Polycom RealPresence Trio for flexibility in medium to large spaces, with powerful camera options, 1080p video resolution, dual monitor support, content sharing flexibility and the ability to add optional accessory items for enhanced collaborative experience.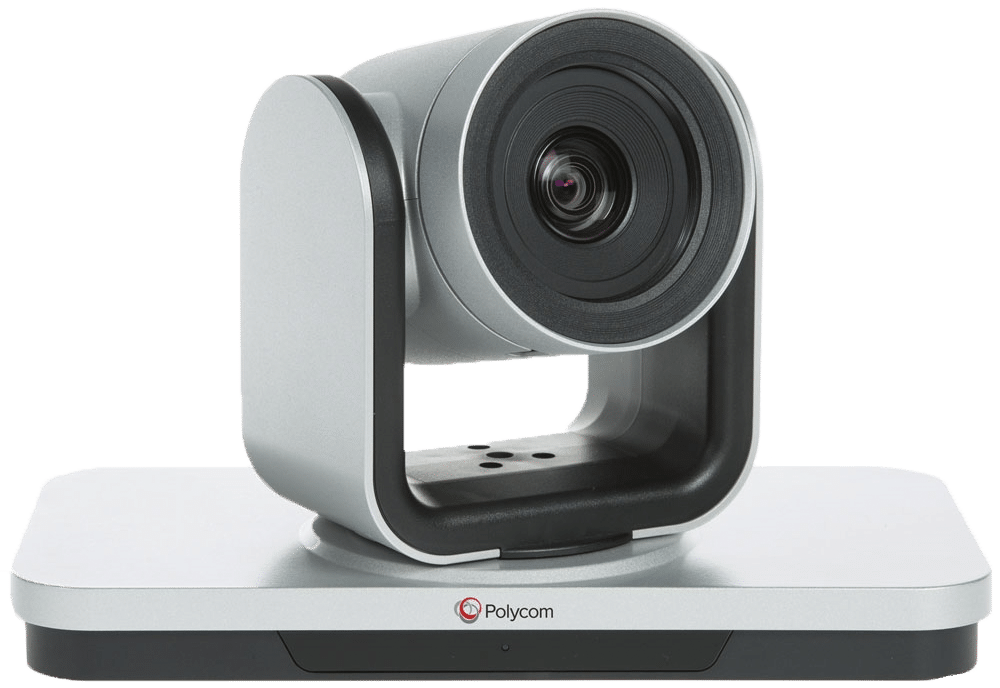 EagleEye IV-12x Camera
The Polycom EagleEye IV camera features a 4k image sensor, allowing the camera to zoom in without losing clarity. A 12x zoom capability readies the camera for larger meeting rooms where conference participants might be farther away from the camera. Quick and fluid movements let the EagleEye IV camera provide the best view possible for remote participants. Power is provided to the camera from the codec, meaning less cables and that you can mount the camera without it having to be near a wall outlet. Compatible with RealPresence Group Series software 4.1.3 and later. Includes 3m HDCI digital cable.
Warranty:
Polycom One Year Service Plan 
Installation is easy when you buy from 323.tv
Don't worry if you're the IT guy who has been tasked with the installation. Tech Support is included for free and we keep most Polycom products in stock so your order will ship fast. Once you receive the system, you will simply take it out of the box, plug in a few cables and give it an IP address. If you need any help with network settings or configuration, just give our knowledgeable support team a call. They have years of experience and are always ready to help. You can even call and ask questions before you buy at 1-866-323-5773.