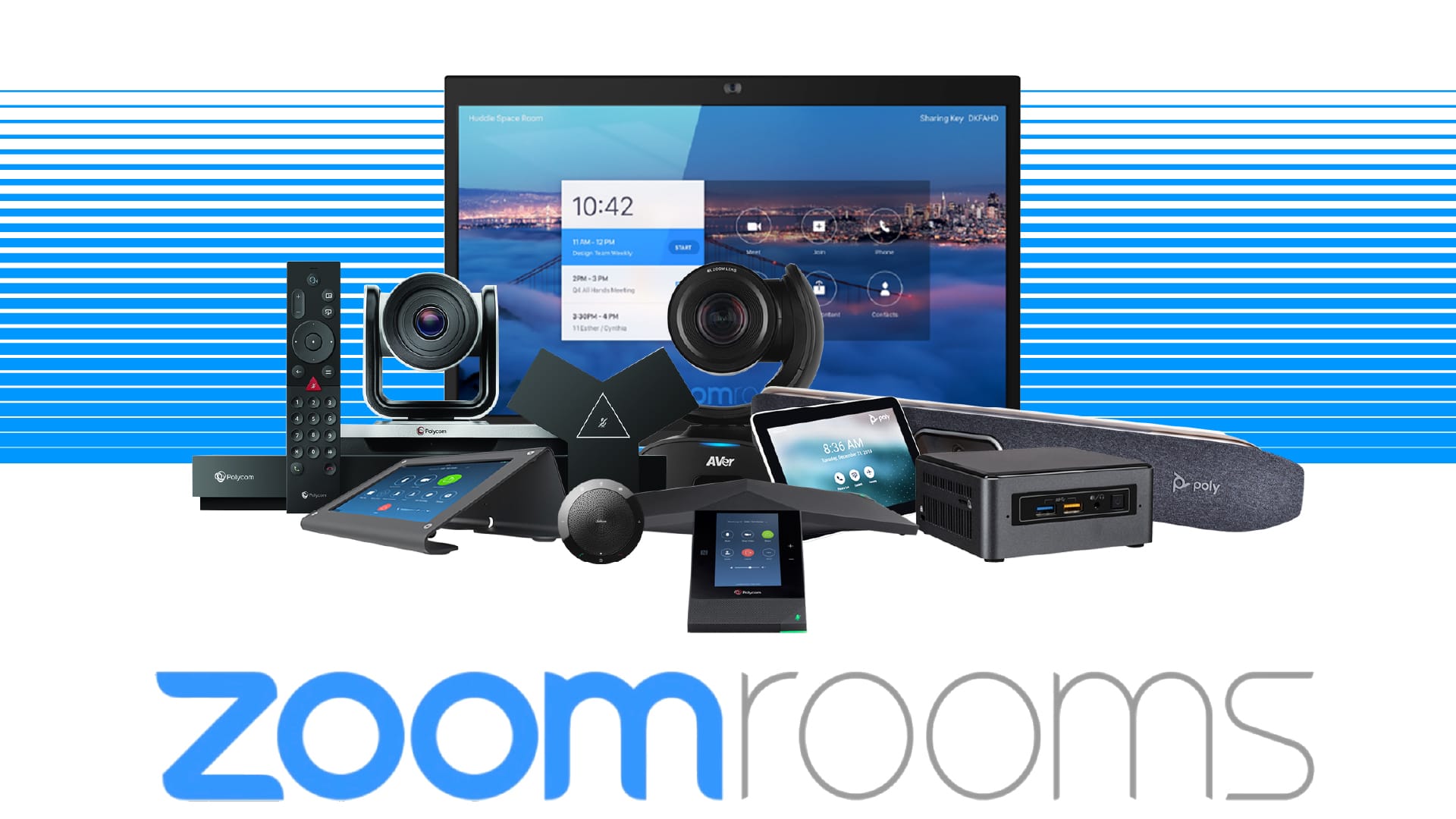 A Zoom Room is a virtual meeting place for Zoom user's to host video collaborations. The Zoom Rooms software is an upgrade from Zoom's standard software suite as it provides additional features, integrations, and compatible hardware solutions that are designed to meet the needs of professional meeting environments like conference rooms, training rooms, or classrooms. Upgrading to Zoom Rooms makes scheduling meetings, recording, collaborating, and integrating hardware a breeze. All of which are managed through a touch interface in the meeting room and remotely via the cloud.
What is a Zoom Rooms Kit?
A Zoom Rooms Kit is a bundled hardware package designed specifically for Zoom Rooms that typically comes with a touch control, microphone or speakerphone, camera, and computer. At 323.tv, we've created several Zoom Rooms kits that we've designed to meet the needs of users based on their meeting environment. Whether you're Zoom Room is going to be in a small huddle space, standard conference room, or a large meeting space, we have a Zoom Rooms kit for you.
What's the difference between Zoom Rooms and standard-based conferencing endpoints like Polycom, Cisco, or Lifesize?
While both the Zoom application and standards-based endpoints are using the internet to connect for video calls, the protocols that they are using to accomplish this are different. Standards-based endpoints are built with H.323 and SIP protocols (the standards) and connect to other hardware that are built with those same protocols by dialing their IP address or SIP address. In contrast, Zoom's software application utilizes the same protocols that devices like desktops, laptops, and smartphones use to communicate with each other digitally.
Are there Standards-based endpoints that run the Zoom Rooms software?
Yes. Polycom (now Poly) has come out with two new series' of enterprise grade video conferencing systems that will run the Zoom Rooms application natively. Those are the Poly Studio X and G7500 series. They deliver the quality of their standards-based predecessors (well beyond that of PC equipment) and deliver the Zoom Rooms experience exactly as if you were running the app on a PC or MAC. That's possible because they are purpose-built for video conferencing and collaborating, packed with all the features that a meeting environment can possibly need to have successful audio and video meetings, presentations, and training sessions.